Careful with Your Carcass
Posted by Scott Stowell on January 02, 2018 |
1 Comment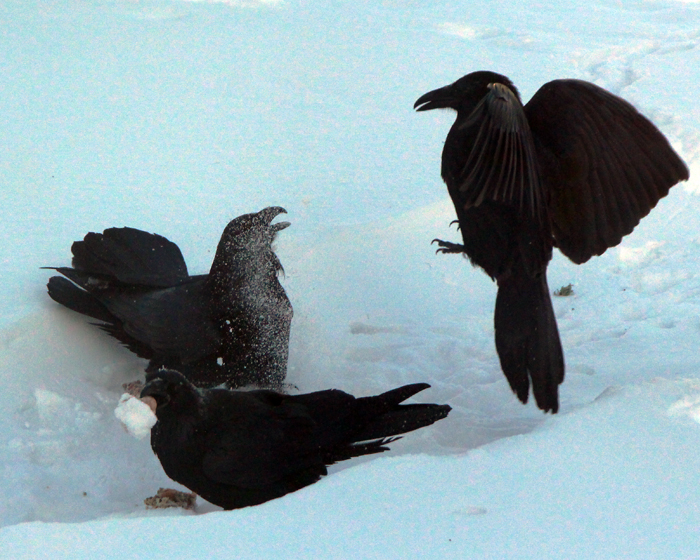 Holiday trimmings aren't just décor at our house. In keeping with the holiday spirit, we occasionally share food trimmings from the bones of animals who gave themselves to us with our neighbor ravens. Now that the holidays have wrapped up, we'd like to think the ravens had a bountiful season from our yard.
Ravens are fascinating to watch and offer loads of lessons. The satin sheen of sunshine on black feathers is so bright at times it colors them white. They're also like an avian road crew, cleaning up everything from roadkill to milkshakes. Trouble is, ravens have a whole different set of table manners than we do.
We learned raven etiquette after the first Thanksgiving at our house. Having trimmed final leftovers from the turkey, we decided to set the carcass in the yard for the ravens instead of turning it into turkey soup. Herein lie lessons #1-3: Ravens are deceptively strong; they don't wait to be asked; and they love carryout.
Shortly after returning inside the house from my backyard delivery, I glanced out at our neighbor's garage. I saw the turkey carcass on the roof. For a moment it was by itself, then a raven landed beside it and began dining. Word spread quickly through the raven community and moments later, as holidays will go, his relatives came swooping in.
Fortunately for neighborly relations, the carcass had dropped onto the back slope of the garage roof. From their house, our neighbors couldn't see the commotion on the other side the garage ridgeline.
Ravens also don't monkey around with comestible opportunities. Not a morsel remained on that skeleton. When they finished, I simply bussed the garage roof with our garden rake.