Navigational Purposes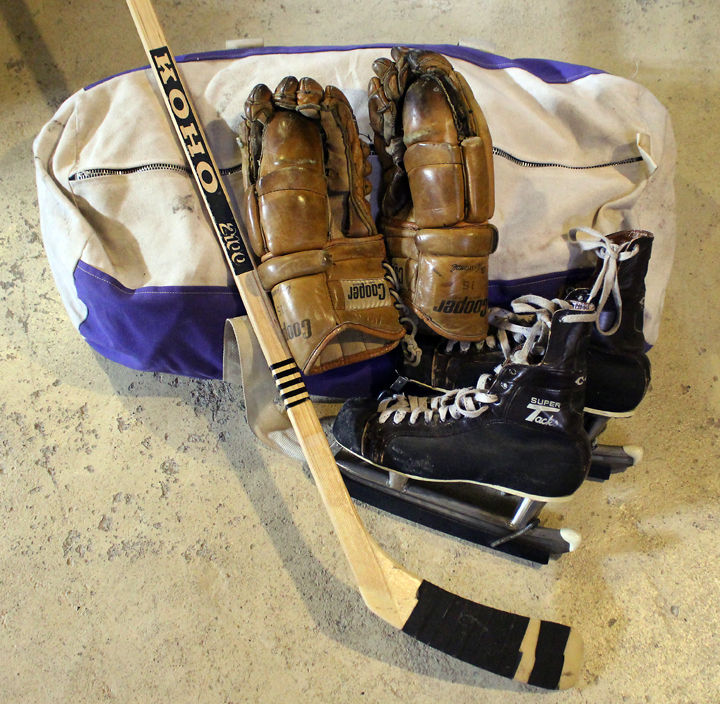 By the time I left high school, I had the remainder of my life pretty much mapped out. Consequently, I should have been inducted to the NHL Hall of Fame twenty years ago. Oddly enough, that career plan began to siderail the summer after high school graduation.
Throughout childhood, I dreamed of playing goalie. But these years later, I can see how my mom and dad were in cahoots to nudge me elsewhere. At the time, my parents purchased almost all of my equipment; it wasn't provided by a school or park district. However, the specialized goalie gear was frightfully expensive. Just the leg pads and two gloves cost more than all of my regular gear combined. So, they preferred me to stay out of the net.
They also wanted me to become a better skater. They reasoned that a goalie doesn't skate very much or very far. Goalies just stay at one end of the ice and often all alone. My parents even paid for figure skating lessons to improve my skills. Fortunately, that didn't last long. Unlike hockey skates, figure skates have a blade pick on the toe. During lessons, I'd habitually snag that pick on the ice and go sprawling rink-wide. To avoid permanent damage, they let me stop after a season.
I later found that a goalie is often the best skater on the team. That doesn't necessarily mean the fastest, but the one with outstanding agility, balance and footwork. But by the time college arrived, I hadn't spent one tick of the clock stopping pucks. I was a defenseman. So, considering my experience and timeline, I had to accept that "defenseman" was my position for a career in the National Hockey League.
Around our house, I must have chirped a lot about my aspirations. Eventually, my dad pulled me aside and tried explain, "You can't just 'say' you're going to play in the NHL. It's not a regular job. It's a different level."
Thinking back, he was either looking to spare me disappointment or get me to shut up. Either way, I paid him no mind. What did he know anyway? He played professional baseball, but never made the Big Leagues; he only reached Triple A. He taught me baseball, but this was hockey; we learned it together. Plus, I had more actual skating experience than him. So there—decision made.
In choosing a college, I had the foresight to not jump too far too fast. I recognized my early hockey days were around Chicago, not exactly a hockey hotbed like Canada or Minnesota. So, for seasoning, I enrolled at a Division III school in Wisconsin. I'd play there for two years, then walk-on to the Big Ten campus in Madison where I'd make my mark. This also boded well for my joining the U.S. Olympic hockey team. I'd postpone college graduation by a year for the 1980 Winter Olympics. We didn't know then, but of course everyone knows now, about the miracle that team pulled off. Afterward, I'd head to the NHL. It could wait twelve more months.
No sooner had my parents dropped me off at college, than I went straight to the hockey coach's office to make my services available. But I found that over summer, the local ice arena where the university team played had been sold and transformed into a supermarket. Without a nearby arena, the hockey program became a club sport. Several colleges in the team's previous conference took pity on us and we played them when schedules would allow. It wasn't what I envisioned.
The closest practice rink left something to be desired, too. It was outdoors with ratty old boards that had holes big enough to shoot volleyballs through. Errant pucks vanished behind them, their sound pranging car fenders parked along the curb. One wind-ripping, twenty-below-zero night, the team lined up along the leeward goal line. Then for fun, everyone stood still and pointed their skates windward. Moments later, wind gusts began blowing us to the opposite end. This wasn't the fun I'd grown to love.
The speed of college competition was another eye-opener. It was blinding compared to high school and I had a hard time keeping up. My dad's point started coming into focus. What's more, I began discovering new academics I wanted to explore. I never did transfer schools.
My old hockey gear is now relegated to a Halloween costume if I need one. It's been bagged for so long, that when I unzip it, the aroma of my high school arena wafts out. Memories engulf me and I smile.
I've seen the Stanley Cup in person once in my life. It's hockey's highest prize. But since college I've made a pact with myself: Even if given the chance, I won't touch it. That might seem silly, especially to hockey fans who never played. If they want to touch it, that's fine because they never transcended a magic veil. In a small way, I was given a glimpse of something deeper, of what's involved. To touch it meant I earned it.
If the Cup and I meet again someday, I'll keep my hands in my pockets, content to just look. Dreams that don't come to fruition still have a navigational purpose.