Resurgent Perspective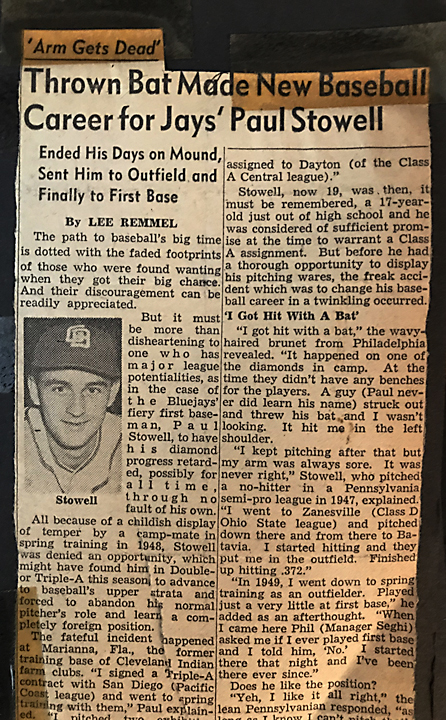 I knew I was in trouble when my own dad called me by my last name. Along with being my father, he doubled as my baseball coach. I had just made a disastrous baserunning decision and was thrown out at third, ending not just the game, but the season. I had squelched my team's chance at our Little League championship. Tail between my legs, I sat down in the dugout beside my teammates as Dad expounded on my oversight for all of us to unmistakably hear. He gave a damn about my progress as a ballplayer. It was akin to my growth as a person.
My dad was well-qualified to address bonehead play. He played professional baseball from 1949 to 1954 mostly in the Cleveland farm system. He was drafted as a left-handed pitcher, but early in his career a freak accident occurred in training camp. A teammate struck out, lost his temper and threw his bat. In those days, there were no dugouts on the training fields and Dad was on the sidelines. He wasn't looking toward home plate and the bat hit him in his pitching arm. It never fully recovered and his pitching career ended. But my dad could still hit and Cleveland management put him at first base.
He never had an official at-bat in the big leagues. So, he referred to time he might have spent in the majors as a "cup of coffee." It's a term for players who were called up barely long enough for a swig of joe. Dad's loose interpretation of that phrase dovetailed with some splashy tales he could tell. As a complement to being sonorous, my dad didn't hesitate to juice his baseball stories like a spitball.
Exaggeration was a big part of his shtick. He said he once hit a baseball so hard it rocketed between the pitcher's legs and slammed the centerfield fence on the fly. He told me of another time when he missed catching a line drive that was hit straight at him. It stung with such force the label of the ball manufacturer transferred onto his skin. There was also a flame-throwing pitcher who struck out my dad on three straight pitches. After the third strike apparently crossed the plate, my dad turned to the umpire and argued that the last pitch sounded low.
A few teammates who became big leaguers were often a centerpiece for his stories. Most notable was his roommate in the minors, outfielder Rocky Colavito, whose arm strength was staggering. On a bet, my dad watched Colavito stand at home plate and throw a baseball not just over the centerfield fence, but completely over the bleachers and into the parking lot.
When Colavito was awarded Cleveland's "Man of the Year," he sent my dad a brochure from the banquet and inscribed it with New Year's greetings. For the eight-year-old I was, the sight of it was an eye-popper.
Ken Burns' epic documentary Baseball mentioned another of my dad's teammates. Harry Chiti was a weak-hitting catcher who was traded from Cleveland to the New York Mets, Major League Baseball's newest team at the time. The film described Chiti as so inept that he was the only player in baseball history to be traded for himself, sent back to the team he came from after just 30 days.
But my dad had additional information about Chiti. He had a bazooka for an arm. He said Chiti could pick off runners at first base by throwing from a crouch and without looking or notifying the first baseman. My dad was regularly that first baseman and he got tired of the ball hitting him by surprise and nursing the bruises.
My entire family was born in Philadelphia. We moved to the Chicago suburbs when I was six and my dad took me to my first major league game between the Chicago Cubs and the Philadelphia Phillies at Wrigley Field. Walking up the grandstand ramp, I experienced a moment that only happens once. With each step, the field began revealing itself before my very eyes, becoming increasingly larger. Finally, with it in full view, I stood beside my dad, agog at the greenery.
But that wasn't the only highlight Dad had planned. We had arrived well in advance of the game, back in the day when fans were allowed to watch batting and infield practice. Dad scanned the field for Phillies, then got up and told me to follow. I stumbled along under the stands looking around in wonder and trying to keep up with him. We stopped at a set of stairs and a walkway enclosed in a cage. Soon, Phillies players intermittently passed by and I realized we were right below their clubhouse. My dad called to one of the players and holy cripes they knew each other. He was utility outfielder Wes Covington. My first major league game and I met my first major leaguer.
While in the minors, Dad also met the legendary Satchel Paige. He said Satchel was reclining on a training room table covered across his middle with nothing but a towel and a guitar. They exchanged greetings and that was about all. But Dad said Satchel had the longest, skinniest feet he'd ever seen, with toes like broken carrots.
As a kid, these storied hooked me and I glommed for baseball history. In the process, I began hearing broadcasts and reading player interviews containing some of the same quips and embroidery as my dad's stories. I discovered the story about the screaming liner between the pitcher's legs hitting the centerfield fence belonged to Satchel Paige. Unless my dad was the player who hit that ball against Satchel, this fable didn't originate with Dad. For a while, I may have become jaded.
Years later, I came upon a scrapbook my mom had compiled while dating Dad as high school sweethearts and throughout his baseball career. It was loaded with delicate yellow clippings from Philadelphia newspapers and others in minor league towns where he had played. Reading how other people told his story woke me up. Maybe he really was that good. I experienced a resurgent perspective.
Two Philadelphia newspapers reported that he had been unanimously chosen by major league scouts to play in the state's annual all-star game. He "was selected by the American Legion as the second outstanding player in Pennsylvania." After his arm injury, another paper listed his season batting average at .371, stating, "Any player with such a clouting average is more valuable to the team playing every day." I also found that his Triple-A contract was signed straight out of high school.
Lee Remmel, the longtime historian for the Green Bay Packers, was a reporter for the Green Bay Press-Gazette when my dad played minor league ball with the Green Bay Bluejays. Remmel wrote a story exclusively about my dad's arm injury and the psychological effects of changing positions. Remmel called my dad the Bluejays' fiery first baseman and said of his dead arm, it "must be more than disheartening to one who has major league potentialities…to have his diamond progress retarded, possibly for all time through no fault of his own."
Dad's chances of advancing to the majors eventually became microscopic and he had to reach a decision. He chose my mom, an engineering career and I showed up three years later. I never saw him play. But I have one of the uniforms he wore in the minors, a woolen hand-me-down from the majors with the major leaguer's name sewn into the neck label. And I have his stories.
For the record, Dad's lifetime batting average was .298. But the statistic that most makes me wonder "what if" was his pitching ERA, an impressive 2.03 runs per game. What if that bat hadn't hit him in the arm?
For music at my dad's memorial, I wanted to send him off with "Take Me out to the Ballgame." It wasn't listed in the memorial program and only a handful of us were in on the surprise. I'd been holding my emotions together fairly well until that point in the ceremony. But even though I knew it was coming, I lost it the moment the introductory notes bellowed across the stained-glass windows. The whole congregation instantly knew what to do and sprang into song. The organ was so loud, like I was standing with my ear pressed against an upper deck speaker in a Major League ballpark but the volume didn't hurt my ears. It plunked me legless. This was the Church of Baseball.