Shedding Winter
Posted by Scott Stowell on April 15, 2019 |
1 Comment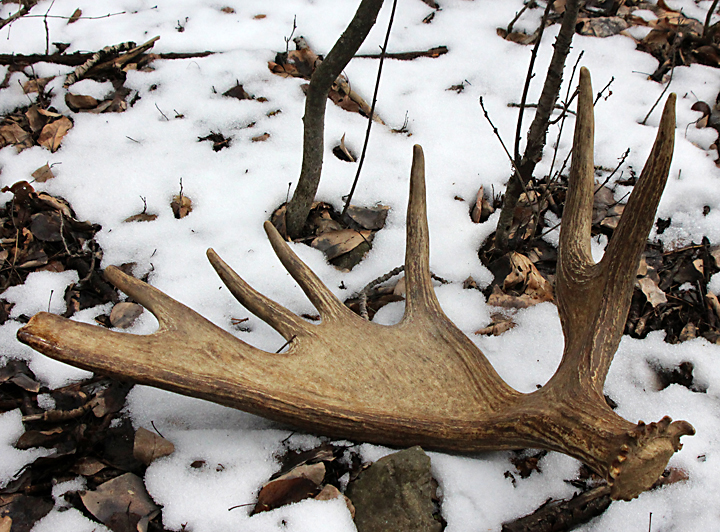 The entire liquor store emptied into the parking lot, staff included—a sure sign of the coming spring. It ranks with the first sightings of robins and Harley-Davidsons.
The group gathered around the back of a pickup and its owner flopped down the tailgate to display the fruits of his labor. He'd been hunting for antler sheds earlier in the day and came home with a bounty of single antlers that made their annual drop to the forest floor from the deer or moose who wore them. His cargo was a mix from both. One in particular was a sweet moose specimen, a well-preserved, root-beer brown shovel with a big palm.
In situations like these, human nature can't resist asking the big question, "So, where'd you find them?" The guy simply smiled and shook his head. There was no use niggling for geographic whereabouts any further. That'd be like giving up a favorite fishing hole in summer or a hunting stand in fall.
The sheds signified we've reached that hopeful point in winter when enough snow has melted in the woods to uncover its treasures beneath. As sheds go, hunters are well-advised not to dawdle; they're not the only interested parties. Plenty of woodland critters are just as sick of winter as the next mammal and they want dibs on those bones for springtime nutrition. Antler sheds are full of minerals like calcium, phosphorus and protein, among others. They're real lip-smackers for squirrels, mice, fox, coyotes, bears, beavers, otters and other varmints. Between them, they'll likely have gobbled every antler in the forest by summer. So, get to those sheds before gnaw marks show up.
Shed hunting is one of several cabin-fever remedies. But each year, a few people push seasonal transitions beyond reason. Theirs is a malady without the cure of shed hunting. For some anglers, the first sight of open water along lake edges triggers them into digging their boat out of storage. Nevermind that the air temperature might be below freezing when the water isn't. They haul their boat to the landing and prep it for launch.
Amidst this lake-hopping frenzy, they sometimes mistakenly unlatch the winch hook at the bow of the boat before backing it to the water. That hook normally secures the boat to the trailer. Bunk-style trailers, those with carpeted slats under the boat hull to support the boat, are susceptible to ice-up in freezing temperatures. Unfortunate have been the overeager anglers who backed up with an unlatched hook only to watch their boat slide off the icy bunks, not make the water and crash to the pavement.
Other seasonal transitions are required by law and can get pretty spendy if people don't plan ahead. Fish houses for ice anglers up here must be removed from lakes by designated dates in March. The more permanent houses on wheels or skids that sit on a lake all winter will settle into the snow and ice surrounding it. Especially during periods of freeze-thaw, some houses submerge deeply, often into thick slush and become one with the ice. Unentrenching them can fall slightly short of employing acetylene torches and dynamite.
One frustrated fish house owner decided to cut his losses—literally. His house was a homemade wooden structure. After a couple of unsuccessful hours attempting removal, he fired up his chainsaw, cut around the shelter's base, took off the upper section, then burned what remained on the ice.
Conservation officers are trained to take a dim view of such methods. The fish house owner was cited for burning prohibited materials that would eventually sink into the lake.
If winter has your favorite seasonal elixirs in short supply, try shed hunting. In the meantime, may robins and Harley's grace your spring.